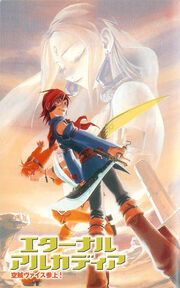 Eternal Arcadia: Sky Pirate Vyse's Calling was a paperback novel loosely based off Skies of Arcadia. It was written by Hiromi Hosoe and published by Famitsu Paperback. It was released on October 20th 2000.
The novel was 222 pages long and covered the events of the game from the beginning up until the escape from Valua. It featured six illustrations (one colored and five black and white) by Itsuki Hoshi, the game's official artist.
Ad blocker interference detected!
Wikia is a free-to-use site that makes money from advertising. We have a modified experience for viewers using ad blockers

Wikia is not accessible if you've made further modifications. Remove the custom ad blocker rule(s) and the page will load as expected.