Ad blocker interference detected!
Wikia is a free-to-use site that makes money from advertising. We have a modified experience for viewers using ad blockers

Wikia is not accessible if you've made further modifications. Remove the custom ad blocker rule(s) and the page will load as expected.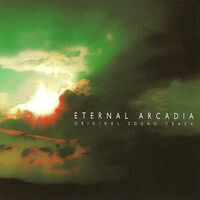 Eternal Arcadia Original Soundtrack is the official soundtrack for Skies of Arcadia and its Gamecube remake. It was released in Japan on October 5 2000. The soundtrack spans across two CDs and features 67 original tracks from the game, though a few tracks were omitted and Ramirez's Theme was shortened. The music was composed by Yutaka Minobe and Tatsuyuki Maeda.
Unlike most Skies of Arcadia merchandise, the soundtrack was imported into the U.S., but only a small number of copies.
List of Tracks
Edit
Opening Theme
Main Theme
Air Pirate Isle
Galcian's Theme
Theme of Reflection
Air Pirate Secret Base
Blue Rogues' Theme
Blue Rogues' Ship
Dungeon of Searing Heat
Ruins Dungeon
Battle (Dungeon)
Vyse's Theme
Kingdom of Nasrad
Dungeon Cave
Black Pirates' Theme
Bombardment
Let's Go!
Sailor Town
Kingdom of Ixa'taka
Ancient Temple Dungeon
Legend
Sudden Storm
Uninhabited Island
Theme of Loneliness
Drachma's Theme
The Little Jack
Imperial Theme
Valua City
Tension
Military Facility Dungeon
Armada
Boss Battle
Victory in Battle
Headquarters
Fina's Theme
Everyday Life
Gag
Gilder's Theme
Nervous Crisis
Tragedy
Hatred
Delphinus
Yafutoma Dawn
Eastern Air Pirates
Ice Dungeon
Nervous Crisis 2
Battle (Ship Deck)
Rejoice
Town of Ice
Dimming Lights
Giga's Theme
Bombardment 2
Bombardment Victory
Remote Town
Great Silver Shrine
Ramirez's Theme
Armada Battle
Battle Defeat
Enrique's Theme
Final Dungeon
The Final Moment
Final Battle
Emotional
Legendary Sinking Continent
Epilogue
Credits