Hydra
Talk

0
562pages on
this wiki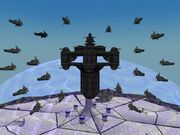 The Hydra (ヒュドラ) is Galcian's flagship, also known as The Flying Fortress. It's production was halted at the request of Empress Teodora because of it's magnitude, but Galcian's men were able to finish it.
As a Ship Battle
Edit
Stats and Abilities
Edit
| HP | Defense | Will | Magic Defense | Quick | Agile | Dodge Percent |
| --- | --- | --- | --- | --- | --- | --- |
| 200000 | 300 | 280 | 370 | 200 | 15 | 5 |
Victory against the Hydra yields 27770 EXP, 11900 Gold, and a guaranteed Captain's Stripe, Moon Cannon, and Moon Torpedo.
The battle begins simply enough, giving you an opportunity to whittle down the health of the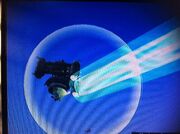 enemy, but your options and, the battle as a whole, is altered when Galcian gets "serious". When the option to attack the upper or lower hull of the Hydra appears, it dictates the rest of the battle. Attacking the upper hull being the safer option as it means the Hydra Cannon wil not be used, but your attacks will do less damage and the Moonstone Cannon will be guarded. The lower is the riskier but more devastating, as you will be able to do regular damage to damage, as opposed to reduced, but you will also be at risk of having the Hydra Cannon used against your ship. Your best bet is to stock up on full kits beforehand, and defend where possible while dramatically reducing the Hydra's health as quickly as possible by attacking the lower hull, while healing yourself repeatedly to ensure you are in the pink. The Hydra doesn't go down easily, but the majority of its attacks are relatively low damaging, so the Hydra Cannon is the only real threat.
As a Dungeon
Edit
After severely damaging the Hydra in an intense airship battle, Vyse and crew board the ship with the intention of fighting Galcian face-to-face. Outside where the party lands, Enrique will be there to provide healing for the party if necessary.
The ship itself is rather linear with only a few dead ends to throw players off, though these dead ends often lead to valuable items. Most areas of the Hydra are damaged as a result of the previous ship battle. Despi
te this, the areas are heavily guarded by the strongest soldiers in the Armada under Galcian's command. Eventually the party will reach the engine room, where a nearby ladder will take them to the top deck where Galcian is.
Treasure Chests
Edit
There are four treasure chests inside the Hydra, all of which are missable.
Name Origins
Edit
As with all other Valuan ships, the Hydra is named after the constellation of the same name (which also happens to be the largest of the 88 modern constellations).