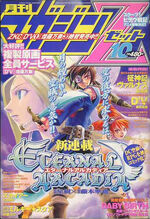 Monthly Magazine Z was a Japanese seinen mixed-media magazine published by Kodansha, mainly aimed at teenage males and hardcore anime/manga fans. As af January 2009, the magazine has been discontinued.
During the magazine's run, a series of Skies of Arcadia mangas were published; the story is loosely based of game. The mangas were illustrated by Itsuki Hoshi, the game's official artist. The first of these mangas were published in October 2000.
External Link
Edit
Ad blocker interference detected!
Wikia is a free-to-use site that makes money from advertising. We have a modified experience for viewers using ad blockers

Wikia is not accessible if you've made further modifications. Remove the custom ad blocker rule(s) and the page will load as expected.