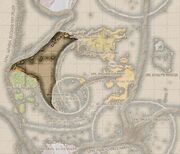 North Ocean contains several Discoveries, a Black Spell Pirate ship battle, a Wanted Battle and leads to the Valuan continent after Ixa'taka.
North Ocean is the area between Ixa'taka and Valua.
Locations, Discoveries and Monsters

Edit
There are several Discoveries in North Ocean:
The Monsters in North Oceans are:
There is a Ship Battle against Black Spell Pirates and a mandatory Wanted Battle against Gordo the Round and is later the location of Gordo's Bistro.
Ad blocker interference detected!
Wikia is a free-to-use site that makes money from advertising. We have a modified experience for viewers using ad blockers

Wikia is not accessible if you've made further modifications. Remove the custom ad blocker rule(s) and the page will load as expected.