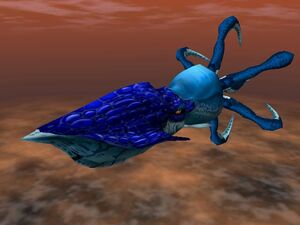 Obispo (オビスポー) is a giant blue squid and one of four optional ship battles. It is located near the Giant Squid Nest Discovery; to find it, go directly north from Daccat's Island through the rift until you barely show up on the southern portion of the map.
When defeated, Obispo yields 11,480 EXP, 5,600 Gold, and an Alloy Deck. If Osman is an active Crew Member when you fight Obispo, it'll also drop a Crystal Ball.
Obispo is extremely vulnerable to red and blue magic attacks.
Ad blocker interference detected!
Wikia is a free-to-use site that makes money from advertising. We have a modified experience for viewers using ad blockers

Wikia is not accessible if you've made further modifications. Remove the custom ad blocker rule(s) and the page will load as expected.