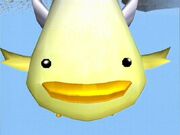 Piccolo is the name of Maria's Hamachou. As Doc believes that this Hamachou is the only being able to get through to Maria, he sees it as the key to one day seeing Maria smile again. This leads to his request for Vyse to find and collect Moonfish to feed to Piccolo.
When you feed Piccolo Moonfish, he will grow. Every time you give him Moonfish, he will spit out an item at you. When you feed him all the Moonfish in the game, you will unlock Moon Hamachou, a discovery. By the time Piccolo becomes the Moon Hamachou, he stands taller than humans and has large white wings that smaller Hamachous lack.
List of items
Edit
The items one can obtain from Piccolo are as followed:
Ad blocker interference detected!
Wikia is a free-to-use site that makes money from advertising. We have a modified experience for viewers using ad blockers

Wikia is not accessible if you've made further modifications. Remove the custom ad blocker rule(s) and the page will load as expected.