Raja is a creature that appears in the Vortex when the Delphinus's lowers the crane on a space where nothing is detected or on a spot where something is detected but the space in question does not hold the item. It resembles a manta ray. Each Raja has 15,000 HP.
Unlike previous ship battles, battles with the Raja take place in the dark setting of the vortex, where the darkness obstructs the player from predicting the enemy's movements. Additionally, the darkness will cause cannons and subcannons to miss their target easily. Players can bypass this vulnerability with magic attacks, which will generally not miss their target, and with torpedoes, which are not affected by the darkness; having Tikatika on active duty is highly recommended if you use torpedoes.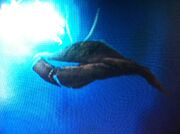 Movements
Edit
Luminesce: a special attack that deals electrical damage.
Assessing Damage: a trademark non-attacking action. Does nothing.
Raja can drop a Crystal Ball if Kalifa is in your active crew and has a chance of dropping a Deluxe Kit.  Raja can also drop Soundproofing, which is a requirement for the Swashbuckler Rating Vyse the Extravagant.
Raja is extremely vulnerable to purple magic attacks. 
The word "raja" means "sting ray" in Latin.
Ad blocker interference detected!
Wikia is a free-to-use site that makes money from advertising. We have a modified experience for viewers using ad blockers

Wikia is not accessible if you've made further modifications. Remove the custom ad blocker rule(s) and the page will load as expected.