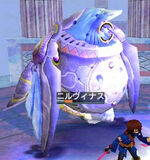 Veltarn is the boss of Glacia. It resembles a robotic creature and is a purple element enemy with 10,801 HP.
Abilities
Edit
Veltarn can use the following abilities:
Attack: A physical attack that has a chance of inflicting confusion on the target.
Avalauncher: Veltarn fires a violet-colored laser that covers the area in front of it in purple ice that subsequently shatters, damaging all party members caught in the line of fire.
Death Laser: Veltarn fires a light blue-colored laser that inflicts a small amount of damage on a single target, provided its chance of inflicting instant death does not kick in.
When defeated, Veltarn yields 3,357 EXP, 6,491 gold, and a Crystalen Box. Defeating it also allows access to the room where Vyse and crew will be reunited with an old friend.
Ad blocker interference detected!
Wikia is a free-to-use site that makes money from advertising. We have a modified experience for viewers using ad blockers

Wikia is not accessible if you've made further modifications. Remove the custom ad blocker rule(s) and the page will load as expected.